San Clemente Plumbing Champions Addresses your Plumbing Needs at any Time of the Day or Night
When you face a plumbing emergency, nothing is as comforting as knowing that you have a number of a dependable 24 hour emergency plumber in your contact list. We, at San Clemente Plumbing Champions, are committed to offer 24 hour emergency plumbing services. Our plumbing experts are reliable, efficient and trained to cater to any emergency plumbing needs such as water flooding your basement floor due to a clogged sewer drain, clogged toilets or a leaking faucet.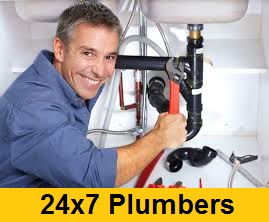 We do not charge additionally for late hours or after hour plumbing work, so it is another breather that you do not have to spend extra money to have your plumbing woes addressed at odd hours. So, whether it's a day or night, or the plumbing problem is big or small, just give a call at San Clemente Plumbing Champions and we will arrive at your doorstep and handle the problem thereon.

Services We Provide
We understand and expect that a plumbing situation may arise at anytime of the day or night and you may need assistance at odd hours as well. That is why we provide 24 hour plumbing services where our technician would come to your place to help you with a plumbing problem, be it early morning or late night. So, whether your bath pipes are leaking at four in the morning or the kitchen drain has clogged when you are going to clean the last lot of your dishes, do not worry and just give us a call.
Our plumbing experts are compassionate and understand the distress one goes through when a plumbing emergency occurs. They are trained and qualified to handle all your issues, from clogged drains to plugged toilets. They will ensure that each and every problem is resolved properly. Our service van also has all the necessary tools and equipment needed for the job.
So whether your need is of residential or commercial plumbing services, you can most definitely count on San Clemente Plumbing Champions to provide efficient and fast solution to your issues. Our plumbers being thorough professionals make it a point to clean up all the mess once the job is finished so that you do not have to spend any time later on to clean up.
Emergency Residential and Commercial Services
Our service professionals are trained in all kinds of plumbing works be it residential or commercial. Being available 24 hours a day, 7 days a week, we make it a point that any plumbing emergency is attended immediately. We also work on weekends and holidays, so there is not even a single day that we'd miss to attend to your issues.
So do not look at your clock. You have a plumbing problem that needs to be addressed, just give us a call and we'll take it from there. Servicing in this industry for more than three decades has made us experts in this domain and you can be assured and worry free that once you contact us, all your plumbing problems would be taken care of.
So, if you are in need of 24 hour emergency plumbing services in this area, San Clemente Plumbing Champions are just a phone call away.