San Clemente Plumbing Champions: Reset Your Home Plumbing Network with Our Trenchless Sewer Repair Services
As sewer lines are laid underneath the surface they go unnoticed unless some problem occurs. And, when problem does get detected, the thought of digging up the yard to repair sewer lines is unnerving. Luckily for you, San Clemente Plumbing Champions offer technologically advanced trenchless sewer repair in San Clemente. The method does away with the traditional method of tearing apart the whole yard to repair plugged, broken or leaking sewer lines. So, the trenchless method for sewer repair keeps your property intact and also saves you time and money.
Say Goodbye to Torn up Lawn with Trenchless Sewer Repair Method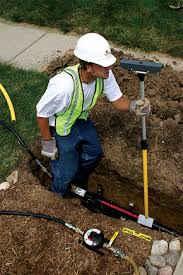 Trenchless sewer repair technique involves digging up a few access points to repair only the portion of sewer line that is damaged. There is no need to cut open the entire yard that used to be the case in traditional repair method.
Our plumbers at San Clemente Plumbing Champions use two approaches for trenchless sewer line repair.

Slip Lining – This technique, also called Cured-In-Place Pipe (CIPP), involves inserting an epoxy resin liquid filled balloon inside the old damaged sewer line. Once dried, it gives an integral strength to the pipe. This technique requires only a single hole to be dug up at the point of contact. Slip lining technique causes least damage to the property, costs approximately 40% lesser than the traditional methods, and prevents root intrusion in the sewer line.

Pipe Bursting – The two holes are created on two ends of the old pipe being replaced. A large conical head is then hydraulically pulled by a steel cable through that old sewer line, crushing the old pipe and at the same time pulling the new High Density PolyEthylene (HDPE) pipe inside it. Pipe Bursting technique is half as costly as the conventional repair method, involves less trenching work on the surface, and the old pipes are replaced with latest high quality HDPE pipes.
How Does San Clemente Plumbing Champions Come to Your Aid?
The trenchless sewer line repair that we offer addresses the following plumbing issues:
Bigger water line installed for better water flow
Broken, cracked or tilted pipes due to soil shifting
Flawed pipe line installation leading to leaking pipe lines and sewer backup
Root invasion or debris buildup leading to a clogged sewer line
With trenchless sewer repair, plumbing system becomes functional and healthy in many ways.
The repair work is fast taking less than a day
The new pipes installed are rust resistant
The seamless pipes installed prevents invasion of roots and debris build-up
Long lasting repair meeting industry standards
No damage to lawn, flooring, driveways, pavement, etc.
Eco-friendly and cost effective repair method
Life expectancy of new pipes is about 50 years
San Clemente Plumbing Champions are your plumbing experts. For any sewer line issues, give us a call and leave your worries behind.