Sewer Line Repair Work Made Easy with San Clemente Plumbing Champions
Every homeowner has to deal with that mess of a plugged sewer at some time. A stuck sewer line can become very stubborn if not noticed and addressed in time leading to many problems. So if you notice any disturbance such as decreased flow of water, gurgling sound coming from the faucet, or even a smelly bathroom, it is understood that it needs serious mainline sewer repair work. Just call, San Clemente Plumbing Champions and rest easy.
San Clemente Plumbing Champions are the best plumbing service providers for sewer line repair in San Clemente. Our professionals work round the clock to come to your aid for sewer issues. Once you contact us, we assure you that all your plumbing woes will be taken care of.
Why Does the Sewer Line Get Clogged?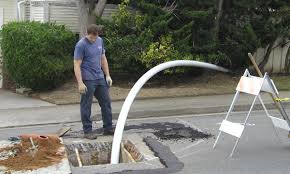 A sewer line gets plugged due to numerous problems in your home plumbing network such as:
Intrusion of tree or shrub roots in the underground sewer line to seek moisture inside the pipe line, which also causes water flow hindrance.
Accumulation of fat, oil, grease, hair, sediment, dirt and other debris inside the sewer line creating a bottleneck for water flow.
Shifting of soil beneath the pipe line due to construction in the area nearby or as a result of earthquake.
Old iron pipes getting rusted and corroded leading to water discoloration and foul taste.
Irregular maintenance of the home sewer system.
The main sewer line from the city backlogging into the house.

Different Materials Used for Sewer Line Installation
The pipelines used in laying a sewer line can be of varied materials, each having its own pros and cons.
Iron pipe: Rust appear to form on iron pipes if they are not galvanized, leading to corrosion. This can lead to crack at multiple joints.
Copper pipe: Copper pipes have a lead coating to avoid them from rusting. However, the lead coating does come off with time, eventually leading to corrosion.
Clay pipe: These are least commonly used these days as they are quite brittle and get damaged readily.
PVC pipe: These are widely used pipes because of their strength. The only drawback of these pipes is that they cannot take extremely high water temperature.

How Does San Clemente Plumbing Champions Repair Clogged/Broken Sewer Line?
Traditional Repair Method: In this repair method, the entire sewer line is opened up to assess the damage and then the mainline sewer repair work is carried out on the portion that is damaged. Once the repair is done, a backhoe is used to close the sewer line and the trenched area is closed up.
Trenchless Repair Method: The modernized technique doesn't let you dig your entire yard or lawn, as only a few access points are shovelled. This method is eco friendly, time saving and easy on your pocket.
Trenchless repair method involves two approaches:
Pipe relining: In this technique, a fiber glass line is imbedded in the defective pipe to seal it from inside.
Pipe bursting: In this method, a stronger pipe of high density makes way through the older one, cutting and blowing it apart.
Once you call us for sewer repair in San Clemente, our technicians will first assess the location, source and extent of the damage using video camera inspection. Through this inspection, our technicians will also analyze the structural condition of the sewer pipe. They will then decide the most suitable method sewer line repair. Only when you give your nod, our technicians will begin the sewer pipe repair job using the most advanced tools and technology as their disposal.
Noticed your sewer line getting jammed? Worry not, call San Clemente Plumbing Champions and give all your plumbing worries to us.